Welcome!
Since 1931, High Country Linen Service has grown with its state-of-the-art facility to be the premier linen supply and laundering service for Lodging and F&B, Restaurants and Chef Apparel, Service Uniforms and entry mats.
We also provide wholesale janitorial supplies, paper products and earth friendly cleaning supplies to Jackson Hole, Teton Valley, Idaho and beyond.
Protect Our Earth
We live, work and play in the Yellowstone Ecosystem.  As a key service provider in the southern gateway to Grand Tetons and Yellowstone National Parks, we embrace the challenge to continually reduce the impacts of our footprint on our environment while providing high-quality dependability through environmentally responsible laundry, uniforms, and linen supply services and systems.
High Country Linen Service uses 100% Green Energy through Lower Valley Energy's wind farms for all our operations and housing electricity. Two of our trucks also run on Clean Wyoming Natural Gas.
Safe. Sanitized. Delivered.
High Country Linen Service is invested in the health and safety of our clients and employees. TRU-UV, our latest addition to our sanitization process, is a combination of chemistry and physics that activates peroxide throughout the wash process to achieve hygienically clean textiles without the negative effects of chlorine peracetic acid that can shorten fiber life or compromise safety in our facility. This innovative photochemical washing process greatly extends fiber life, provides optimum stain and soil removal producing whiter whites, with less water and energy for truly smart washing in every load.
LINENS
Lodging & Restaurants
From coffee shop to fine dining, we've got you covered! Take advantage of Wyoming's, and Idaho's premier linen supply & service.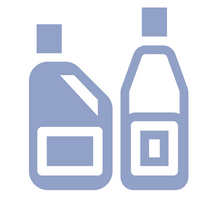 CLEANING SUPPLIES
Wholesale & Home
Everything from sponges to hot tub supplies, we've got it all. The High Country Linen store is open for in store and delivery shopping for all your cleaning supply needs.
CUSTOM & STOCK MATS
Outdoor and Indoor branded mats
First Impressions begin at your front door! Entry mats, exchanged and cleaned weekly, eliminate most of that dirt before it gets into your building! Weekly rentals available.
Cleaning Products for Home & Commercial
Wholesale janitorial supplies, paper products and earth-friendly cleaning supplies are delivered to Jackson Hole, Teton Valley, Idaho and beyond to keep your business operating at its highest level. High Country Linen Service is much more than linens and laundry - take a look at our online shop to help your restaurant, hotel or facility operate smoothly and efficiently.
Jackson Hole's Linen Supplier since 1931
Our business serves one important customer at a time through rental programs for hospitality and restaurant linens, chef apparel, entry mats and dust control, service uniforms for businesses throughout northwest Wyoming and eastern Idaho. Knit into our comprehensive transportation and delivery system are necessary janitorial and earth friendly cleaning products, from OPL laundry systems to automated dishwasher supplies, toilet and facial tissues and professional window cleaning tools and brooms mops, floor cleaners for all flooring applications. This state of the art, full service business has been locally owned since 1931, and is currently owned by the Paulson family. We look forward to serving your business long into the future.
Shop in store!
Professional grade cleaning supplies, disinfecting & sanitizing items, environmentally safe cleaning products, toilet paper & paper towels, utility pails, buckets, & bins, sponges, mops, & more!
Stop by our High Country Linen store at 335 Glenwood St, Jackson, WY
Monday–Friday 8am–5pm